Tony's BuggyBags Race Seat fitted to his Iguana Buggy May 11
Hi Jon and Helen
Seat and rail covers arrived safely. Really pleased with the quality and workmanship! It's not very often these days that you buy something and get exceptional value for money…!
Keep up the good work, sure I'll be back in touch soon.
Best regards
Tony

Peter Griffin - Roof Mounted Transit Bag- Sep 2010
Im so chuffed with the bag mate, its brilliant. The size is great......fits my buggy, a quiver of Blurrs, Flows, two bars, helmet, pads, tools etc
Olli Seitenschneider- Buggybags Evo 2002 Seat fitted to a Flexifoil Scout
Hi Jon,
First of all let me wish you and your wife a happy and successful new year!
I had the first chance to take the bug out today with your seat.
All I can say is NICE. The center of gravity is deeper for me, thus allowing me to take more power, especially when starting to roll. Thus today, since it was only really low winds I was able to hold down the 9m Haka without doing the turtle. The next thing is - as you promised - that the back support is indeed much better with your seat, again allowing to brace oneself against the pull of the kite.

Thank-you so much for
sending the two gps holders for the buggys - they are perfect -
thank-you!!!!

Hi Jon & Helen first off just want to say thank you for the seat it is totally amazing
absolutly made up with it got it on the buggy within minutes of it arriving cant wait to get out
i have attached a couple of pics so you can see it on the buggy
once again many thanks to you both for a quality seat
atb
Carl

David Horwood, Gpod Geko 101 Jan 09
"The pouch worked ready well. It did not drop off the buggy or twist.

The field we were flying was very wet and after a couple of hours riding though puddles the GPS unit was still dry.

Thanks once again Jon for a great good quality product.

Regards

David

"The pouch worked ready well. It did not drop off the buggy or twist.

The field we were flying was very wet and after a couple of hours riding though puddles the GPS unit was still dry.

Thanks once again Jon for a great good quality product.

Regards

David

Oct 08-Clifford Baker, Flexi TSR and TSshortie

Yes all fits good... although from the photos you will see I haven't quite finished. Too dark after the rain eventually stopped last night and still dark this morning when I left for the beach.
As you can see the splash guard fits the contours of the swan neck perfectly.
Tom - Switzerland Viper Bug
The bag has arrived - and as expected - is great.
i have just installed the bag and it fits simply like it should.
you were right about the material as you were about the size.
it is what i need and what i want.
i have "tested" the bag already with the "last coming home" solutions:
rm+ jojo 14
pkd combat 15.4 UL
the bag holds one of these kites at the time without any problem (handles and lines included)
in fact there is still (!!!) space left for a drink and a big sandwich :-)
i would not have believed it before you have told me - and it still does not look like that on the buggy.
from now on i will call it "my big little bag".

Nov 2008 Thomas Hastings Flexifoil Seat Modification complete with TSR
I have some pictures for you i love the seat i have manage to get the back of my seat ajusted to where i wanted .
Rob Weaver's Libre Vmax Kite Buggy- Oct 2008
Hi John and Helen, received my bag and seat etc on Saturday, absolutely fantastic, love the colours, fit and finish absolutely first class! Thankyou very much, ill be in touch regarding dimensions for TSG.

Have attatched some photos i took this morning, would love to see my buggy on the website! Rob.
Jonny - KiteCrew.co.uk Sep 2008
Thanks Jon i got the bag and Im more than happy.

Again many thanks.

Jonny (www.kitecrew.co.uk)

Simon Ricklesford -RS Top Box Buggybag- Sep 2008
I have sent you some pic's of my RS buggy ready to race next weekend.

Thanks for an excellent product. I have managed to squeeze in a 1.2m Sting, 2m Ozone Samurai, 3m & 4.9m Blade and a 3.5m Airea Raptor II (phew). Now that's what I call a bag.

Once Again Thanks very much.
The Bibblers PTW Cougar 2- Sep 2008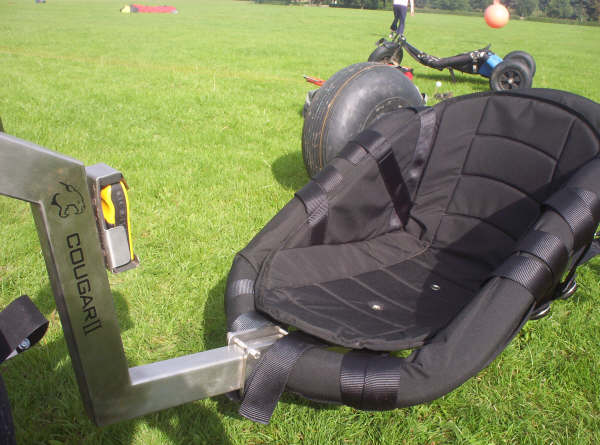 Hi Jon,

Heres the pictures of the PTW Cougar II kitted out with the best covers available. The covers and seat fit perfectly! Many thanks for a top quality product.

Regards
Tony

P.s........ I'll have to get the TSG for it!

Atmosphere Kites Aug 2008
There are actually 2 people in the bag to give it some bulk ;) -Al

BB.Co.uk "We made this super sized bag to carry a Very large Tent, notice the 4 carry handles that actually go right round the bag to provide extra support"
Now that I have adjusted the straps properly, the ends can be fed back through the loops to keep them tidy. Not sure if the threadders would really be needed.
"B.B.co.uk comment, The straps look really neat and tidy, great idea"
Once again, many thanks. The seat has exceeded all expectations in terms of quality and comfort. Hi-Viz is definitely the way forward!!
Great service and speedy delivery. The Libre Sprinter Bag fits perfectly and easily in seconds and is really well made (as usual): this is my second buggy bag from Jon, the first was for my Flexi Buggy, which I no longer have but is still in use.
Nice touches are the velcro fastening internal pocket for keeping keys, wallet etc. safe and the heavy duty zip with velcro on the outer pocket to keep everything dry.
The bag looks really grood and doesn't look like an "add-on".
The Sprinter bag holds my 7m Bullet, 4.8m Yoz II and my Rage 3.5m plus waterproofs, odds and ends, drinks bottle and enough food for a day on the beach.
Well done and a MASSIVE THANK YOU"
Stefan Nordkvist- June 2008
The bag is SWEET! Here is a list of what I squeezed into it:
13m BEST Bularoo with pump and bar
4.9 Blade
Dakine Fusion seat harnes
knee/shin guards
helmet
+ all the usual stuff we all lug about with us.
Stephen Murphey April 2008
Just back from Spain and wanted to say how handy the rucksack bag turned out to be. so handy to have on the beach when the winds blowing and you just want to pack away the kites in whatever manner. really made the pack out/down a lot easier. Saw the pics i sent on the site so i hope the design sells well for you. The only suggestion id make is to perhaps sew a little loop or tab onto the straps so the excess belt can be tucked in as with a neck tie.. a lot of flight companies aren't keen on checking in bags with loose belts etc so it'd make life a little easier.. as it happens i simply lengthened the straps and tightened them around the entire bag which worked to make it more compact as well. Only other problem now is that im hooked on LEI's and ill need a bigger bag for them as the quiver expands.
Hi Jon & Hellen as l said the bag fit's great l'll get some better pic's at the beach the back rest strap works great as a stake holder
Just to say thank you - my bag, side rail covers and splash guard arrived yesterday. I missed the post so picked them up this morning. The colour is gorgeous - I'm delighted - and I will be fitting the kit this evening, in preparation for our trip to France this weekend.
When all is fitted I'll send you some photos - thanks once again.
Jan from Belgium March 07-Bag to fit a Parastorm Typhoon Mk 2
"Thanks for the friendly contact and the fast service!" Jan
Chris Paynes, Barrel bag for his Flexifoil Buggy
"I've just got to say that the bags are fantastic and work brilliantly as a pair or individually.

The barrel bag is a work of art and is so versatile that you've got to offer it as an option for the flexi wide axle buggy. You can use it to transport kites, attach it to a wide axle flexi buggy on its own or attach it on top of a standard flexi bag. You could (providing that the standard bag was fairly full) strap it on top of a standard flexi bag on a standard flexi buggy.

I put the barrel bag on the buggy on top of the standard flexi bag and it works brilliantly. Its very quick and easy to attach to the buggy and you can whip it off in seconds if you need to get to the standard flexi bag. Fits back over the bag just as quick. It feels very secure.

I also fitted the barrel bag directly on to the wide axle, which works really well and gives me another option. It makes transporting your kites very easy, particularly if you transport your buggy on a rack, or have to assemble it, as you just strap it on when you get to the site in seconds.

The 9.5m Sabre fits into the barrel bag without a problem and there is even room for a 3.5m or 2.5m kite as well.

I've taken some photos and uploaded them onto the SEKA website. http://www.seka.org.uk/gallery/browseimages.php?c=157 The bags are great.

Thank you very much.

Regards
Tracey's Super Transit Bag March 2007
Please find attached photos of bag.
Had to borrow some kit from friend, to fill bag up, with still room for more !!!!

Bag had in it,
At first, 3 kids aged 11, 8, 7.


Then:
1 Peter Lynn Buggy
6 Kites (1.5, 1.7, 3.0, 3.5, 4.5, 5.5)
3 Helmets
1 Harness
2 Ground Stakes
2 Waterproof coats
and not forgetting the all important first aid kit (which is well used !!!)

Very pleased with bag and it's very well made, sand did not escape into the car.
Thinking of putting kids in bag next time as they seemed to carry more sand into car than anything else!!!
Kids very excited about possibility of being on website!
Kind Regards
Tracey
Kbbm "Suppose we could rename it the Buggybag Kid Bag! Lol.......Glad you like it "
Duncans Transit Bag Dec 2006
"The bag is great, very pleased with it.... 2.5 3.5 4.5 5.5 6.5 7.5 9 & 11m Centurys, helmet, harness and lots of other bits and room for more !
Thanks ...dunk"
Jims TSR Side Rails and TSG shortie complete with matching Buggybag DEC 2006
Jims TSR side rails for his Flexi Foil kite buggy
"I will say that the flexi looks marvelous with it's new additions, I'm not sure I want to let my son or myself use it now, it might spoil it. Top job..........thanks again.
I will be in touch after the new year about some items for the libre race buggy."


Buggybags go Down Under Nov 2006
Hi mate, the bag arrived to day, thanks mate, it looks awesome.
I had a brief chance to try it out for fit, and its just great.
Now I'll have to give it to the wife to wrap it in Christmas paper and put it under the tree.

I tried it out with heaps of stuff, and it fitted my three kites, harness, repair bag, gloves, booties, GPS, camera, and lots of other stuff too.

I'm very impressed and glad to say I have the first buggy bag by BuggyBags UK, in Australia.
I really like the extra large flap over the zipper, and the zipper is not a small one, its huge. The inside pockets are big and will be very useful.

The overall look and Quality is just great.
Alan Shrimplin's Buggybags to Fit his and Daves Customised Vmax Buggies
The sand Stake pocket is nice and tight the stake should not fall out.
Don't know if you do other external pockets, but one for the Mobile phone would be good…"
BB.co.uk Extra pockets of any type can be added, internal mobile phone pouch a great idea"
Apart from that they look good, Dave has customized his with his name on it, what about a clear plastic cover over the sand stake pocket, left open at the top, you could then slide in a piece of card or plasticized strip with name on, (bit like the back of some ring binders).
Hi,

The bag was delivered while I was at work on Monday, so I took the "while you were out" ticket to the post office yesterday evening to pick up the bag.
I have to say that the bag was even better than I expected. Extremely heavy duty, and very well made throughout. You should be very proud of these bags:-)
Also I'd like to compliment you on your customer service, you have helped, communicated and updated me at all the right times.
All in all I am very pleased and would recommend you to anyone else who needs a custom bag, whether it be for buggies or any other purpose.
Jim


Yes the bag arrived and he was a very happy with it and it fitted a treat……
Deb

Steve Copeland : Sep 2006
Got the bag this morning, many thanks. Looks and fits great after I worked out what to do with the elastic!
The bag holds my 6m Buster 2 and my 3.5 rage and tools etc and has room to spare. Very impressed! I like the internal key pocket as well, nice touch.
The Total Splash Guard (TSG)- Fitted to the one and only PTW Panther
From: Carlos Fandango [mailto:popeyethewelder@gmail.com]
Sent: 05 May 2006 20:54
To: BuggyBags
Subject: Re: 58 pictures for you
Popeye comments "The Guard, fitted perfectly, and covered almost all of the seat underneath, the guard kept in position the whole time and kept me completely dry, there were times going over soft sand that I could feel, the sand under my backside. After the buggy session was over I lifted the buggy up and looked indernieth, the spash guard had completely saved my seat from all the abuse...."
Marks out of ten Jon .....= 10/10
Thanks, got the bag today. Excellent quality and the kite protector for
the zip is a great idea.
I've attached some pics including some close ups of the zip.
The kite in the bag is a 15m Phantom with the wing tip spars left in. Also
the lines and bar are left on and wrapped inside the kite and there is
still plenty of room left for odds and ends.

Thanks again.
It's as if it came with the buggy!
It fits perfectly - no adjustments necessary needed to your template.
So there you go! I think it's brilliant Jon, thanks for an excellent
job.
Thanks again,
I'll go and wow my friend with the Mk1 now...

.
Bag is great, fitted easily and now full with my Quiver of Beamers 2.5, 3.6 with Handles, Beamer 5m without and a Crossfire 4m with Handles. I even have room for my windproof, gloves and Hat Well it is winter now. Internal pockets are ideal for the valuables. Sand Stack is ideal (many thanks), I can fit a HQ Stack undererneath it and a snugg fit it is too.
No problems fitting it, approximately 2 minutes and it holds alot "like a little TARDIS"
Well the bag arrived last week and just got around to putting it on, wow, what a bag, fits just perfect... I had to make two small modifications, only took me 10 mins with a hot knife,
first was you forgot to cut the slots for the seat strap
(oops sorry mate) and the second was a mod I made to the last one, I have a RIPS Belly pan fitted so had to cut some holes for the bolts to go through.
I have included pictured of these. Apart from that it fits like a glove and the two window pockets are perfect, you got to make this a an extra feature I think when people see this they will all want them..!
Tones of room inside as you can see from the pics I packed it out well, in the bag was the following:2.2m Yakuza,2.7m Yakuza,3.4m Yakusa,4.0m Yakuza,5.0m Yakuza,6.0m Yakusa,Flask,Phone,Keys,Camera,Tow,rope (Thanks for this),Jacket

I think that's more than enough stuff, there was even room for more bits and bobs....!

Anyway I have attached all the pics I took, I can take more if you need and on a beach if you want rather then my garden, I will be in France in two weeks time with the SEKA bunch so I will see what they think of it...

Can't thank you enough for the bag and making just what I wanted.

Thanks again.

Dave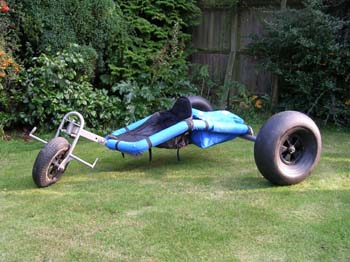 A few pics of my bag, it fitted very well and has transforned what looked
like a tired old buggy into something that looks new.
Libbi's FF 2002 with PL attachments April 2005
"its amazing what you can fit in it... Had three kites in easy with room for drinks and jumper. Dibz cant wait for his either. At minute he has to ask me for a kite if he wants to change size and think he felt a little left out without one"
"The strap fed fine, you basically just insert the plastic clip and then run it through with a bit of pressure from the outside. It slides through easily. The bag fits my two bullets with both sets of handles and lines quite happily along with a ground stake, some spanners, a water bottle and a few other bits and bobs. I'm self sufficient now, which is good as you don't want to leave kit lying around where I fly. "
Colin Roden May 2005

The quality is astounding, it really is. After five minutes fitting the bag, and another five, emptying various rucksacks, the bag is now secured to my Flexi and carrying my crop of Beamers (1.8, 3.6 & 5.0), two sets of lines/handles and a spare set of lines. Plenty of room left for bottles of water, and my dig cam, and camcorder. And better still, theres a secure pocket inside the bag for my moby/wallet/change/car keys.
Top quality product, top quality service. Need some storage? You know where to go.
Ordered mine on tuesday, received it this morning, and boy, am I impressed.
Only been out in the bug a handful of times, but wearing a rucksack or strapping it to the back of the seat was always bugging me. So I bit the bullet and raided my ebay money.
Helen Mac Donald-May 2005

Thanks for your help in making my back rest cover, and also in modifing my buggy bag. I`ve attached a photo of the end result for you.
Thanks again,
Helen
I got my bag today and ive got to say ... im very pleased, top job, well done,
Incidentally, I have got 2.5m, 4.0m and a 5m kite in the bag, all with lines and handles and there's still room for keys, moby and wallet (not that there's much in there right now!!!!)
thanks again
Andy Coptcoat's Cameleon Buggy
Absolutely superb,
What can I say -Fits a treat!! I have gaffered the padding on.
With the wind being low, I was carrying big kites. It fitted, phone, 3 stakes, 2 bottles of water, keys along with a 11m and 8.5m razor.
I could cram some more smaller kites in there, it took a 2.5, 3.5, 4.5 and 6.8 razor.
Dont know why it took me this long to get one!!!
After a lot of huffing and puffing, got the siderails and stuff onto the buggy,
and I have to say, fabulous job my good man.
Really tremendously appreciate the effort and time you have taken to help me out with this, ensurin I got the right bag and the complete siderail package.
The rail covers and pads fit perfectly, as does the buggy bag on the back.
That is some seriously strong Velcro, and the stitching/finish is top quality. Really nice to go for jaunt in the buggy and know that everything is tucked behind you, so when you need to stop or whatever, it's all just there. Buggied right back to the car last night without faffing about with bags etc.
Internal pockets are a great idea for tools in one and wallet etc in the other.
Superb, thanks so much for persevering with me.
Yours,
Kev

Thanks Kevin, Pics to Follow
Hi Jon,
The bag is great - many thanks. I have a quiver of beamers (2.5/3.6/5.0) all with handles and lines - and some bits and bobs in there. The quality of the material is great. I have added a strap around the top of the side rails as my seat doesn't have one and it seems to be working fine. The sandstake pouch is great - saves me having to wear the 'rambo' version on my leg :-)
I've attached a couple of photos.
All the best
Shaun