I have been flying JoJo Kites since July 2000, starting with the JoJo Rs 3.5. In 2004 i bought my 2.5m, 4m and 7m Rm+'s all of which i still have and fly really well. Since then i have collected quite a few, 2m, 3m 4m Rm's along with others which i have traded over the years. For many years (12 to be exact) i have been searching for the fabled JoJo 1.6Sc, on a chance meeting walking up Pembrey Beach I Met Tony Gavin, who it turned out had just bought one.

After a couple of beers we struck a deal, and in recompense for his generious offer to let the kite go (he collects JoJo's) we made a BuggyBags Sports Class Seat for his Flexi with a JOJO 1.6sc pattern on it, which incidentally is to scale.
We digitised the JoJo logos and embroidered them as can be seen below.

We contacted JoJo for permission to use their logos, and over a short period of time built up a good relationship.

We have a range of kites that can be viewed and tried out at meets we attend.
JOJOWING Company
Has been devoted to the development and production of steerable models of paragliders - so called "kites"- since 1994. The initial offer of 2-lines kites was completed by the development of power kites for powerkiting. Since the beginning of its activities in this new sports branch JOJOWING Company has been focusing on the development of racing power kites meeting with significant sport success immediately after their launching in the market. Our current production includes complete supply of kites for a wide range of powerkiting amateur as well as professional fans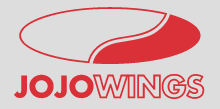 The JOJO RX
Sizes
2m-16m
After Many Years JOJO are back in the game with their new Race Kite
Click Below For More Details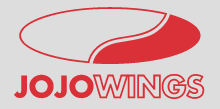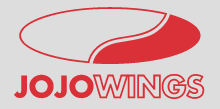 JoJo RM+ - RACE MASTER

Is a racing kite designed for experienced powerkiting riders, who can push the limits of "possible" with this kite. This kite is a succe
RM+ was designed on the basis of experiences with its successor JOJO RM. The wing is fitted with diagonal segments, while it has higher aspect ratio than the JOJO RM.
The efficient profile was specially designed for high speed, sensitivity, power and high angle of attack. Apart from these basic parameters, the main reason in designing this model was put on improving of flight qualities. The result is higher flying comfort even for pilots without racing experience, perfect manageability even in limiting conditions and attendant increase of traction power.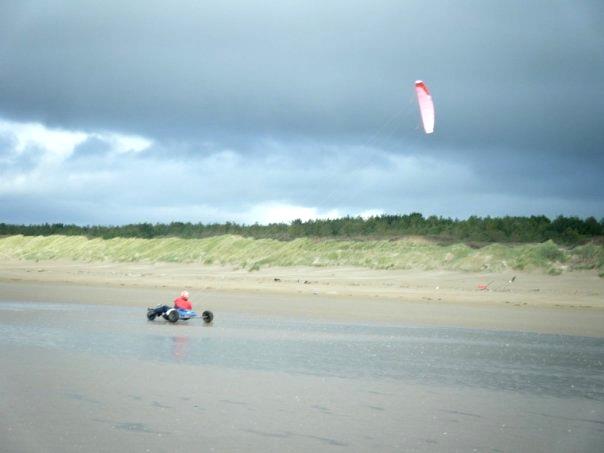 JOJO RF - RACE FAVOURITE

Is a high-performance 4-line steerable kite designed for advanced fans of powerkiting and for easy obtaining of new practices.

The structure of this model is based on a classical concept of elliptic wing. Its effective profile was specially designed focusing on maximum performance and good flying characteristics, that allow to use its performance. This kite was designated both for race and freestyle.

Used materials, construction and technology corresponds to sport orientation of this kite and were proved by testing on all kinds of "land" powerkiting on all kinds of surface (grass, snow, sand)
JOJO ET

Is a four-line kite designed for beginners and amateur pilots of powerkiting. This kite is designed so that beginners can get acquainted with basic steering elements of power kites and at the same time it is of required power for those who want to learn fast and raise their pilot standards.
A canopy of the JOJO ET is elliptic which provides ideal distribution of powers and unique system of pressure distribution inside the wing contributing to significant increase in its overall stability and performance of this kite.


Flying qualities of the JOJO ET kite are precise so that the result is an absolutely perfect kite with ideal steering control, stability and performance. Its small turnover radius at turning enables easy and sensitive steering and reactions through its lines. Its progressive location and balancing of the bridle increases the resistance of the kite to collapsing and also notably extends the "work zone" of the kite.

Using these new elements we designed a kite, which is easy to control, a kite of stable power, suitable for beginning as well as amateur pilots. This kite brings a long-term pleasure and fun.

The performance, quality and price make JOJO ET definitelya good choice for those starting out in the sport of Power Kiting
Session

is passion and weapon against gravity. It belongs to new generation of foil kites demanded for freestyle powerkiting. It is designed specially for this discipline and its flight characteristics allow easy start and huge progress to beginners and fascinates experienced freestyle riders and jumpers by its performance!

Development and testing of this kite follows company long years experience in powerkiting. Used canopy construction with the newest safety elements resulted in the high end product. Wing with middle aspect ratio and high inner pressure offers smooth, dynamic power and quick stabilization from every position. High performance stable profile offers great potential to jumps and big air time - and that's what it is all about!

Handling is made designed for control bar use, that offers depower system use. Depower system as one of the safety elements of this kite makes handling in unstable winds much easier and also extends the wind range for each size of kite.

Control bar is equipped by high level safety elements, as a company reaction to increase of powerkiting safety. Except powerkiting it is above all the possibility to disconnect rider from kite by few safety locks and also standard delivered handleash also with safety lock. Brake lines connection together with handleash secures power control when starting, restarting and landing. Everything without need of assistant help. This system also allows to completely depower kite in dangerous situation.

Session brings new level to quality and performance both for recreational and competition freestyle powerkiting on snow, water and everywhere where you can enjoy it.
JOJO WINDY

A steerable kite designed for the youngest fans and all beginners of flying on steerable kites. Its easy design is adjusted to indelicate handling, which accompanies the first tries to control the kite. This easy design enables flying in weak wind, which is advantageous especially for children learning how to control the kite. With the wind speed rising also its steering control as well as slightly its towing power, adjusted to children, rises.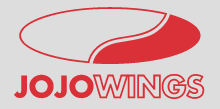 JOJO 22+

A sports kite designed for experienced kite pilots who can appreciate its speed and precise performance of acrobatic turns. Its design, technology and used materials together with its sensitivity rank this model among the best in its class
JOJO 28+


Is not only a sports kite, but also a challenge! The performance of this model will check your limits; it can introduce you to the first lesson of powerkiting. With this model you can taste the fascinating feeling of the wind power and also express your desire to control it.